Jenny Scheinman Trio
Let's think about August 20. A Sunday. A beautiful day. Let's eat some BBQ. The
Jazz Standard
lives with a restaurant named Blue Smoke. They smoke beef. On the bill: The Jenny Scheinman Trio. A familiar name. She plays every Tuesday night at Barbes
,
the most imaginatively booked club in the city. In the tiny back room she fools around with her violein, some weeks it's bluegrass, others George Gershwin. One time
Madeline Peyroux
came by before her concert at Town Hall and they swung like mad. Listen to:
12 Songs
and
Shalagaster
. She's also fresh off of recording for Lucinda Williams' next album - which I hope we're all a-flutter about.
The rest of the trio:
Jason Moran
on piano and
Paul Motian
on drums. Oof. To overstate things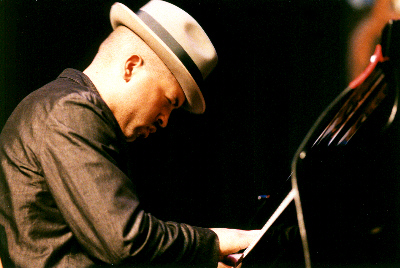 slightly, Jason Moran is the future of jazz. He's studious and wildly experimental, so grounded in tradition he can stray from it with ease. His forays into sampling and hip hop are strikingly organic - there's never a sense of pandering. His "Ringin' My Phone (Straight Outta Istanbul) still blows me away. Off of The Bandwagon, the tune has Moran playing along with a recording of a phone conversation in Turkish. Moran harmonizes with the lilt of the voice, the equation between jazz and speech has never been elaborated so succinctly and eloquently. Taught by
Jaki Byard
, he apprenticed with
Greg Osby
at Blue Note before striking out on his own on the label. His next album,
Artist in Residence
, is released next month - and it's another stunner. Made up of pieces commisioned by various art institutions, including Jazz at Lincoln Center and Dia: Beacon, it experiments with more recorded voices, as well as returning to the basics with a Suzuki training method tune (what I was given as a child at lessons), a 3 minute opera sung by his wife pining for him to come home from his tour, and a circular epic called "Rain" I got to see at Jazz at Lincoln Center that was inspired by the ring shouts of African slaves.
And Paul Motian. He was in Bill Evans' legendary trio with Scott LeFaro in the 50s, and has played with just about everybody of note since then.
So, all three of these unbelievable talents at the Jazz Standard on August 17-20. Their very first gig together. I'll be at the 7:30 set on Sunday hoping to get the student discount off my old ID. I think I'll go for the pulled pork sandwich and perhaps a side of beans. For now.