The 2006 Buffalo Bills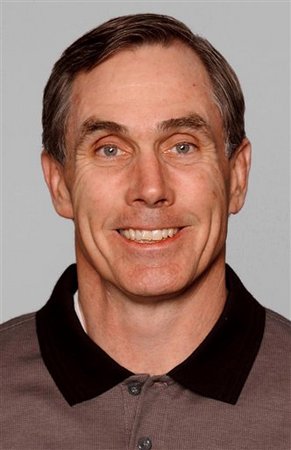 This is the face of the Bills: clenching his teeth in order to fake a smile, a mask steeling itself for inevitable disappointment. It's hard to feel confident when you are starting a player named
Melvin Fowler
. Or if you're named Dick Jauron, the head coach and happy guy to the left. He boasts a gaudy 35-46 record over his career, but can console himself by being more handsome than
Wade Phillips.
After the previous two coaches (first timers Mike Mularkey and Gregg Williams) tanked, owner Ralph Wilson Jr. wanted experience on the sidelines and in the front office, so the octogenerian hired 81 year old Harvard grad Marv Levy as GM (coach during the infamous Super Bowl years) and 55 year old Yale grad Dick. An all Ivy-league management, which I would imagine is a first, and hopefully, a last in the NFL.
It is hard not to adore Levy, the Churchill quoting nice guy who's a lovable link to the Bills winning past. Sure he has no GM experience, and this year's draft was a near-disaster (their first two selections, Donte Whitner and John McCargo, would likely have been available much later on), but he coached the
greatest comeback in NFL history
. Which I attended as an 11-year old. So he can do whatever he wants.
But Jauron is a mystery. Sure, he won the Coach of the Year award in 2001 his first year with the Bears, but afterward he went 12-25. Wilson claims he's a player's coach and a good teacher. When established successes like Mike Sherman were also available - one wonders if Wilson's lost his mind.
The biggest question is at quarterback - where the Bills have scuffled since Jim Kelly left after the '96
season. It's a choice between third year pro
J.P. Losman
, who has still never been given the opportunity to start an entire season, and Kelly Holcomb, longtime backup and safe choice. For one, Losman can play the drums, as seen to the right, and Holcomb can't throw the ball past 15 yards. It seems the choice is simple. And yet Holcomb won't make the mistakes, he'll lose but look competent - which fans like. Losman gives them the best chance to win - he's mobile with a strong arm - but he'll make dumb mistakes along the way. For me it's a good trade off. And Holcomb doesn't play any instruments as far as I know.
Fun names from training camp!: Kliff Kingsbury, QB; Tai Tupai, OT; Ashton Youboty, CB; Ko Simpson, S.
My favorite training camp guy of all time was Leif Larssen, this monstrous Viking looking individual who could lift a ton but couldn't move at all. I shouted his name at many a pre-season contest.
Anyway, the Bills are going undefeated this year.